Hi, I'm Robert Estrin here at LivingPianos.com. Living Pianos is now located in the Waterloo Arts District. This is a unique neighborhood in Cleveland Ohio. About one-hundred years ago, Cleveland was the epicenter of culture and wealth in the United States. The Rockefellers and the Carnegies were here. There was Millionaire's Row on Euclid Avenue. It was a vibrant place. It's left a legacy of culture and diversity. There's the Cleveland Orchestra, one of the world's finest orchestras, about 15 minutes away from here at Severance Hall, which has spectacular acoustics. The Cleveland Museum of Art is one of the great museums in the country. We also have the Cleveland Cultural Gardens that stretch from the lake all the way inland to University Circle, celebrating the diversity of cultures here in this city.
The Waterloo Arts District is about 10 minutes east of downtown a mile from Euclid Beach on Lake Erie. There are a lot of galleries, restaurants, coffee houses, venues, recording studios, you name it, it's here. My wife and I really love the fact that we're with like-minded people who appreciate art, music, and culture. It's really quite an experience living here! Yet the pace is not as intense as Southern California where we lived for so long. You get on the freeway here and it actually moves! You don't have to worry about rush hour. When we lived in Orange County, we used to love to go to Laguna Beach. The only problem was we couldn't come home without hitting major traffic.
Take a tour of Living Pianos and the Waterloo Arts District Here

Check out the accompanying video to see the neighborhood and the spectacular new Living Pianos showroom! This area offers so much. One of the region's noted music venues where national touring acts perform, Beachland Ballroom is right down the street. So there is a nice mix of musicians who come through. There are several vintage record stores, cool bars and restaurants, art galleries, and spectacular murals. It's a unique part of the city! Last night was Art Walk, which happens the first Friday of every month and it was packed. There are three outdoor stages where bands play. It's really a vibrant place to be, particularly on the first Friday of the month. There are all kinds of festivals. Next Saturday they're blocking off the entire street and there will be artists, crafts, music and food. There's so much to celebrate!
We bought a beautiful building here in the Waterloo Arts District.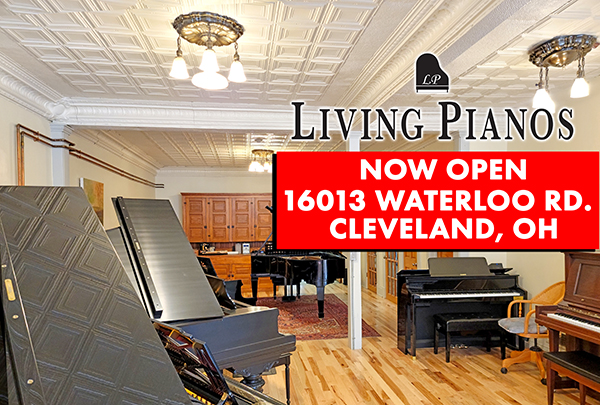 There's room for everything here in our new space. It's four stories! On the top two floors we have a beautiful place to live. In our music room, we have a vintage, Chickering baby grand that blends right in with the vintage woodwork. My wife has her music studio on the third floor. Downstairs are our pianos in a beautiful showroom with great acoustics! The front part of the building is a Civil War era structure originally built in 1862. Of course we have done some work. Fortunately, the person who owned the building before us was a contractor. Thank goodness, because a lot of the restoration was already done including the plumbing, electrical, and all the important structural work. We just finally got air conditioning in the whole building. It was no easy task. It's hard to find people to do that kind of work these days. On the lowest level we have our ping pong room. In the back we have a large warehouse that houses our piano shop. We are in the process of remodeling part of it to allow for even more showroom space. I also have a studio on the main level where I shoot a lot of my videos. I do a lot of my teaching there as well. I have students from all around the world!
It's a new world we live in. It's so easy to connect with people! That's why I wanted to connect with you to let you know what's going on here. If you're ever in the area, you're welcome to arrange a visit. We'd love to have you! In the meantime, you can watch videos which we continue producing.
We are celebrating Living Piano's 15th year and hit 20 million views on YouTube with 95,000 subscribers!
Thanks so much for all your support, we couldn't do it without you. It's all for you! So thanks again to everyone. I'm Robert Estrin here at LivingPianos.com, Your Online Piano Resource.
For premium videos and exclusive content, you can join my Living Pianos Patreon channel! www.Patreon.com/RobertEstrin
Contact me if you are interested in private lessons. I have many resources for you! Robert@LivingPianos.com